Are you familiar with the process method of violin's manufacturing? And do you eager to know how to make the most perfect violin? Now we sincerely tell you the knack of manufacturing which is researched during several decades.
This is the natural dehydrating shelf of violin materials in our co.(Shanghai Tian Yin Violin Making Co.,Ltd), which stores over thousands of high-quality violins, violas, cellos and bass materials.The shortest natural dehydrate process of timber is two-year,and the longest one is above 12 years.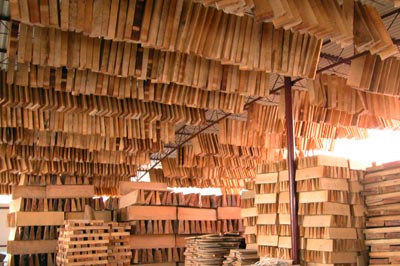 We ventilate the room of shelf in every season of a year. In the summer, the temperature of it is over 65-75 centigrade. In the winter,it is below -5 to -8 centigrade. Therefore, we provide an excellent condition of natural dehydrateway. However, in the industry of violins manufacturing, non-natural dehydrate method is used in a high frequency(handlement of hot-house). Because removing humility is rapid in this way, the dried timber become into deforming when it is placed in a natural circumstance again. And also the tissue of timber will in bad orders, resulting in the cracking and crisping in different degrees. Consequently, non-natural dehydrate way is unsuitable for the making of violins.
Besides the best making process,we use the natural dried timber(over 5 years)to make a violin. These two points are our foundamental principles.However, only using them is insufficient.In order to obtain a ideal sound, we conclude in an experience through over several decades' exproration,called natural dehydrate way of white violin(only having violin body,no head installed).It means that natural dried timber(over 5 years)is instored in an airing and dried indoor.After about 2 year's natural drying,you will find the following changes surprisly.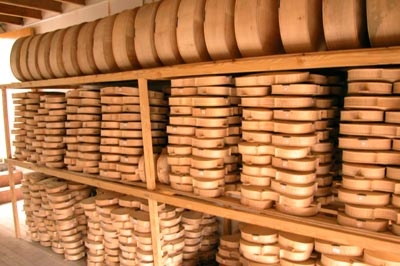 A . Because white violin is a kind of co-trembling body.It will produce the co- trembling phenomenon in a specified condition, even if the little breeze. Now we make a simple experiment. For instance, a new-made violin body's trembling frequency(400Hz) will decrease by 20 percent generally(approximate to 320Hz). The high-frequency turns lower apparently,and the low-frequency will change into a wider condition. So the CO-trembling phenomenon is improved completely.Using the method and traditional alcoholic paint(oily) which is made by hand,you will enjoy an unpredictable sound fitting to the experts and professional bands' demand.After two years performanced, this violin may reach the 50%~70% degree of an older violin.
B. After 2 years' dehydrating process,the inner tissue of the timber, which is used the white violin drying way,will adapt to the environment properly. Consequently, there is no change to result in deforming and cracking which are impacted by region's climate.
We Shanghai Tian Yin Violin Making Co.,Ltd are using the scientific and advanced process of manufacturing. The products of our Co. have effected on many regions of the world tremendously. We have firstly participated in the International Music Exhibition(NaMM in USA) in 1999.In the first day of the exhibition, all the instruments were sold out in a fast speed. We have constructed the business relationships with 50 factories in the world. Every custom who has the relation with us appraise our excellent manufacturing process and the beautiful timbre of music. This is an evaluation of a British businessman to us "Time will verify that the products which are made by Tian Yin will attain the top rank of the world sooner or later.